Outdoor Lighting Rentals and Purchases
Outdoor lighting for homes, farms, or business locations lets you look on the bright side of things with safety and convenience.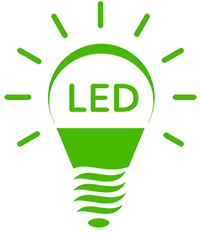 Enjoy the peace-of-mind and better visibility that outdoor lighting can provide.  EnerStar has several rental options available.  For more information, contact the EnerStar Member Service department at 1-800-635-4145.
| Type of Outdoor Lighting | Monthly Rental |
| --- | --- |
| 40 Watt Evluma LED Light - Metered | $ 7.00 per month |
| 40 Watt Evluma LED Light - Unmetered | $ 9.00 per month |
| 128 Watt Directional LED Light - Metered | $15.00 per month |
| 128 Watt Directional LED Light - Unmetered | $24.00 per month |
| 100 Watt Decorative Lighting (no longer available) | $22.00 per month |
| If transformer installation is required - additional charge (plus installation cost) | $11.50 per month |
| *State Utility Tax not included, small additional fee will be added to the monthly charge |   |